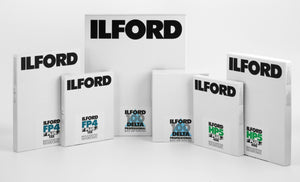 Ilford Delta 100 Professional 6.5 x 8.5 - 25 Sheets
ILFORD ANNUAL ULTRA LARGE FORMAT (ULF) SHEET FILM CAMPAIGN 2023
NO MINIMUM ORDER QUANTITY
PLEASE PLACE YOUR Order BY Friday, July 7th, 2023
All film is special order and must be prepaid
The View Camera Store is an authorized Ilford Ultra Large Format (ULF) dealer
Delivery of the special order items is expected by the end of October through the end of November.
For sharpness and freedom from grain, ILFORD DELTA 100 PROFESSIONAL is simply the best in its class - offering the photographer exceptionally fine grain and a level of sharpness rarely seen, resulting in outstanding clarity of detail and the most precise image rendition.
Capable of superb image quality at its recommended rating of ISO 100/21.
Medium Speed ISO 100
Superb image quality, precise rendition
Core-shell crystal technology