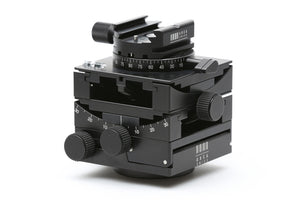 Arca Swiss C1 Cube, Classic Quick Release, with GP (geared panning)
ARCA-SWISS C1 Cube
The ARCA-SWISS C1 cube with its unique patented design makes possible, a level of hitherto never reached, secure and precise camera positioning through precision workmanship and variety of movements.
Photographic apparatuses can be moved micrometrically in two axes. Because the camera moves inside the circular arc, object distance and image window are hardly altered.
A panorama at the base of the tripod head serves to align the camera/recording instrument to the object.
Having aligned and levelled the unit, a second panorama, located above the tilting axes permits swivelling movements of 360º without altering the perpendicular.
In spite of the complexity of the device and the required stability, it has been possible to reduce the dimensional weight by a sensational 63%. It now amounts to only 994 grammes.
With Geared Panning
Features:
• Requires Arca Plate.
• Geared x-y axis with adjustable gear tension.
• Rubberized knobs easily manipulated in cold & with gloves.
• Improved two-stage flip lock quick release lever.